DYING FOR TRIPLICATE
A TRUE STORY OF ADDICTION, SURVIVAL & RECOVERY
"A snapshot of the hell I endured in order to be free from
an addiction that had broken me completely… inside and out."

"I have worked with and detoxed more than 12,000 patients and your case is probably the worst I have ever seen." – Dr. Daniel Headrick, Medical Director at South Coast Hospital, Laguna Beach
My world changed forever upon receiving my first prescription for Oxycontin, at which point I had already been enslaved to painkillers for ten years. After taking two of the little pink pills, a warm rush poured in, and ripped through my system…I told myself, "This is exactly how I want to feel for the rest of my life."
I had two major surgeries I didn't need, and even risked going to federal prison by forging prescriptions… all to feed a habit I couldn't break free from. But all of that changed when the drugs stopped working.
Rendered completely delusional and suicidal I could no longer speak in complete sentences. I constantly stuttered and cried, and realized it was time to try and live, or simply die.
I crawled into rehab knowing my addiction was bad…but it was my first year in recovery that would prove to be far worse. I didn't sleep for 44 days, and physically shook for nine months.
My doctor, who had treated more than 12,000 patients, said my case was the worst he's ever seen.
Physically wasted and emotionally destroyed, I was a grown man reduced to a frightened little boy, in a world that scared me to death. Facing childhood demons, and a father who committed suicide three days before achieving my first year of sobriety, I seriously questioned if I could stay clean.
Addressing one of the biggest social problems in America today, "Dying for Triplicate" is a triumphant story of beating the odds, and discovering that despite the depths of my addiction, I could rediscover joy and find a life worth living.
---
Todd Zalkins Featured in the OC Weekly 2014 People Issue!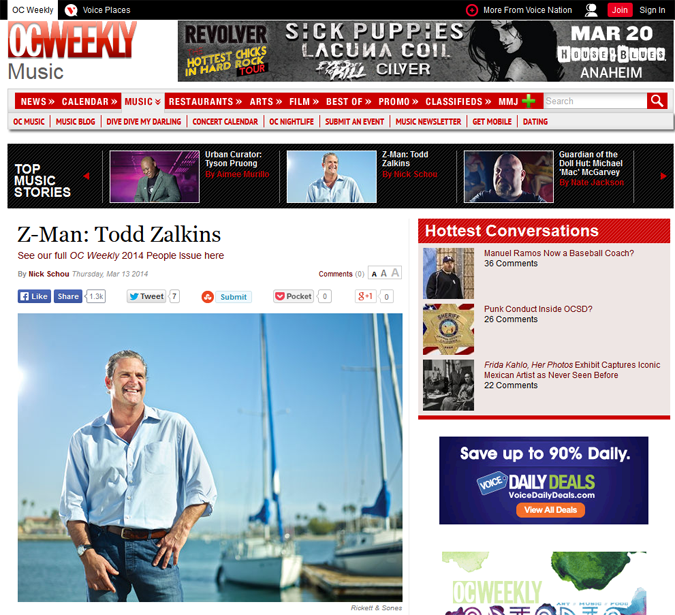 ---